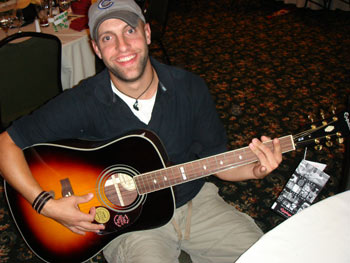 photo copyright © 2006, Billy Hinsche
Brian Gray and his new Gibson Acoustic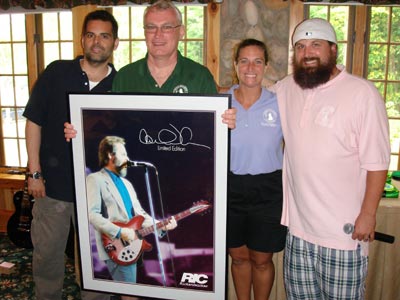 photo copyright © 2006, Billy Hinsche
Marty McNerney won the custom framed Carl Wilson commemorative Rickenbacker poster. (Left to right) Jonah Wilson, Marty, Karen Carlson, and Justyn Wilson.

photo copyright © 2006, Billy Hinsche
Dr. Steve Newman, posing with Justyn and Jonah Wilson, was one of the many winners of some terrific raffle prizes sponsored by Bill Harrison and MPI Research of Mattawan, Michigan.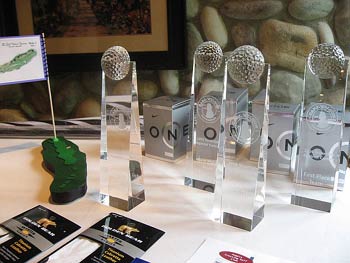 photo copyright © 2006, Britta Wilson
Each member of the first place team was given a crystal trophy, custom etched with the CWF silhouette logo and a box of Nike One Platinum golf balls. In addition to the first place team, crystal trophies were also given to the winners for closest to the pin, longest putt, and men's/women's longest drive.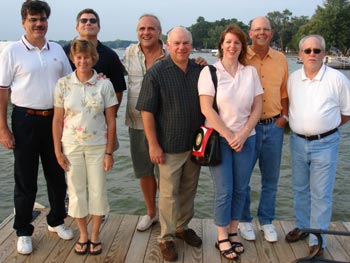 photo copyright © 2006, Billy Hinsche
After the event, Karen & Todd Carlson invited all of the out-of-towners over to their Indian Lake home for a relaxing evening on the lake and BBQ in appreciation for traveling such distances to attend the event. People in order (from left to right): Steve and Kathy Bergh, Ben Valley, Jeff Green, Randy Hutchinson, Karla and Gary Wilkie, and Ron Jennison at the end of the Carlson's dock.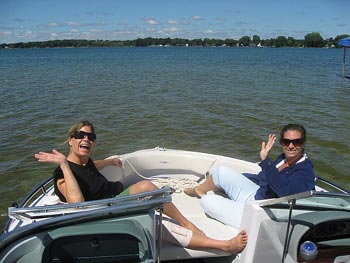 photo copyright © 2006, Justyn Wilson
Sunday morning, when most folks had already begun traveling home, the Wilsons spent a relaxing day at the Carlson's home, enjoying relaxing conversation and even a boat ride touring the lake.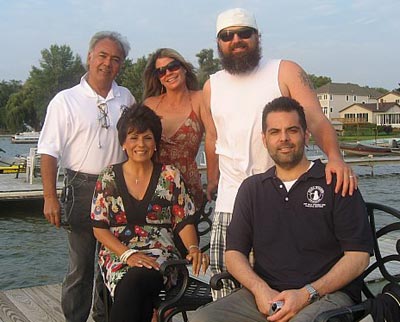 photo copyright © 2006, Billy Hinsche
Carl's family poses dockside, left to right: Billy Hinsche and his sister Annie Wilson-Karges (Carl's first wife), Britta Wilson (Justyn's wife), and Carl's sons Justyn and Jonah Wilson.