CONCERT 08 | GOLF 08 | GOLF 07 | GOLF 06 | GOLF 05 | CONCERT 03



WALK 02 | WALK 01 | WALK 00 | WALK 99 | WALK 98 | MORE





presents the fifth annual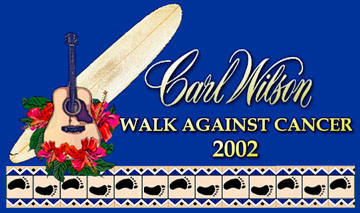 and Benefit Concert
October 5-6, 2002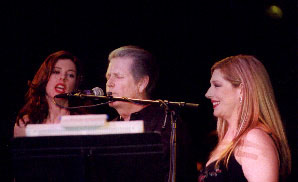 photo copyright ©2002, Rene Diaz
PHOTO ESSAY

Walk and Auction

Beach Party

Historical Bus Tour

Benefit Concert
FROM THE WALK ORGANIZER
The weekend was a wonderful experience. The weather was perfect. The crowd was more than we expected, both at the beach and concert.
Thank you to everyone who came early and volunteered your time to help make the Walk move smoothly. Your efforts really made a difference this year.
I hope everyone enjoyed Billy Hinsche, Jeff Foskett, Mike Meros, Probyn Gregory, Michael Angeloff, Randell Kirsch, Michael Campion, and "Special Surprise" guest Peter Tork on the beach. The first Historical Bus Tour was very nice. Billy Hinsche, Jeff Foskett, and Ricci Martin were great hosts. Thank you to Tony Asher and Ron Swallow for taking time to tell us their stories at our stops. Thank you to Brian, Melinda, and their two daughters for inviting us to their home and offering us the very special "Wilson Lemonade." It was a nice surprise for everyone. Annie Wilson-Karges, Barbara Wilson, and Melinda Love were also very nice to join us for the ride. The Hamburger Hamlet had a wonderful lunch for us to enjoy too.
The concert was amazing! In Bloom, Van Dyke Parks, Matthew Sweet, Carnie and Wendy Wilson, Sugar Ray, The Wondermints, Billy Hinsche, Carl B. Wilson, Justyn Wilson, Eric Clapton, and Brian Wilson and his band entertained us for over 3 hours! They all worked very hard and brought us a unique evening.
Thank you everyone for supporting The Carl Wilson Foundation and our efforts in fighting cancer and helping those who are battling it today.
--Betty Collignon, The Carl Wilson Foundation
VIBRATIONS BETTER THAN GOOD AT WILSON BENEFIT
by Steve Hochman
There's not much missing from "Good Vibrations," Brian Wilson's 1966 Beach Boys masterpiece that took six months, miles of tape, and an everything-but-the kitchen-sink approach to realize. But it turns out that the song can stand the addition of one more thing: some blues guitar licks.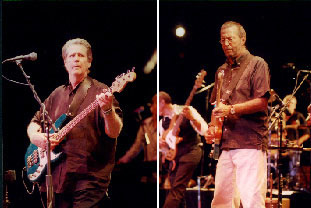 Brian Wilson (left) and Eric Clapton (right)
photos copyright ©2002, Rene Diaz
At least it can if the person providing the licks is Eric Clapton. The English guitarist joined Wilson and his band on that song Sunday [Oct. 6, 2002] at UCLA's Royce Hall, and though "Vibrations" is about as un-blues as you can get, Clapton, with typical grace, slid in subtly here and there. At the closing coda, with its warbling electronic oscillation, though, he let fly with some rich, stinging runs that transformed the music briefly but remarkably.
It was unlikely payoff of a new friendship between Clapton and Wilson, which began at the Buckingham Palace concert for Queen Elizabeth II's Golden Jubilee in June. And it was one of many sparking moments of Sunday's fifth annual benefit for the Carl Wilson Foundation, Wilson's brother and Beach Boys co-founder who died of lung cancer in 1998.
Clapton -- who was backed by Wilson's band on "Stormy Monday" and "Layla," and also joined Wilson during his headlining set for the lovely "Warmth of the Sun" -- found himself in the middle of a family affair. The evening began with three songs by In Bloom, a trio featuring Carl's son Justyn as well as Carl B. Wilson, son of the third Beach Boy brother, Dennis, who died in 1983. The group suggested a Nirvana with sand between its toes. Brian's daughters Carnie and Wendy also did two songs and sat in with dad on a transcendently gorgeous "God Only Knows."
Longtime Wilson collaborator Van Dyke Parks teamed with rocker Matthew Sweet, and the Wondermints, the L.A. quartet that is part of Wilson's band, showcased its own, very Wilson-esque "Ride." Onetime Beach Boy Billy Hinsche contributed as well, trading vocals with Sweet on "Sail on Sailor." And Sugar Ray, whose bassist Murphy Karges is the stepbrother of Justyn Wilson and his brother Jonah, were joined by Carnie and Wendy for the Beach Boys' spunky "Do It Again."
By the time everyone (plus Bill Medley, Jackson Browne, and America's Gerry Beckley and Dewey Bunnell) piled on stage for encores of "Surfin' U.S.A." and "Fun, Fun, Fun," Clapton really seemed part of the family diggin' those good vibrations.
This story originally ran in the October 8, 2002, Los Angeles Times, Calendar Section, Pop Music Review.
---
CONTACT INFORMATION
The Carl Wilson Foundation
P.O. Box 1708
Beverly Hills, CA 90213-1708
310-364-4347

For more information via email, please contact us.

All donations to The Carl Wilson Foundation will benefit cancer patients, cancer research, and cancer advocacy efforts.



Updated on December 12, 2002
Please report any problems to the webteam.


HOME | CONTACT | EVENTS | MISSION | NEWS | TRIBUTES | TOP