CONCERT 08 | GOLF 08 | GOLF 07 | GOLF 06 | GOLF 05 | CONCERT 03



WALK 02 | WALK 01 | WALK 00 | WALK 99 | WALK 98 | MORE





CARL WILSON WALK AGAINST CANCER V
Sunday, October 6, 2002
Click on a picture to view it full size. All photos are used by permission and are not to be reproduced, copied or sold. All rights reserved.
---
HISTORICAL BUS TOUR
A Tour of Beach Boys-Related Sites
Los Angeles, CA
The Historical Bus Tour is a brand-new feature offered by the Carl Wilson Foundation for 2002. A handful of lucky participants started out early on Sunday morning, October 6, on a chartered tour of locations, in and around Los Angeles, that are of significance in Beach Boys' lore. The comedy team of Billy Hinsche, Ricci Martin, and Jeffrey Foskett served as tour guides.
The route began on Sunset Blvd., wound past the Sunset Strip and its legendary clubs (the Whisky A Go-Go, the Roxy, the Viper Room, etc.), and then turned north at the Beach Boys' Star on the Walk of Fame at Hollywood & Vine. The first stop was at Capitol Records for a tour of the landmark tower and studios. The next stop was the former Western Studios (now Ocean Way) and the former United Studios (now Cello), where Tony Asher spoke to the group about meeting Brian Wilson there and working with him on Pet Sounds.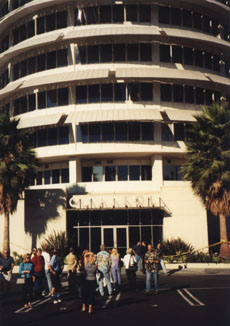 photo copyright © 2002, Margaret Dowdle Head
The tour group outside the Capitol Records tower
The route then led to former homes of the three Wilson brothers. A twisting road took the bus to the top of the hill at Laurel Way, stopping at the house where Brian Wilson kept his infamous sandbox in the mid-'60s. Ron Swallow was there to greet the bus and to discuss the house and the construction of the sandbox.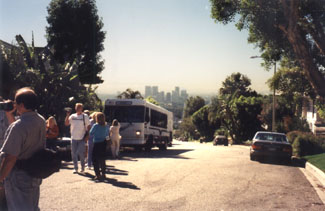 photo copyright © 2002, Margaret Dowdle Head
Looking back towards downtown Los Angeles from the Laurel Way house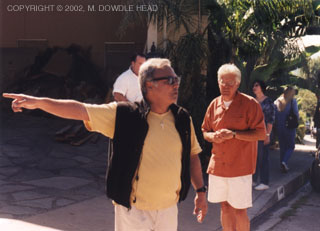 photo copyright © 2002, Margaret Dowdle Head
Billy Hinsche (left) and Ron Swallow
The tour progressed up to Mulholland Drive and beyond to see spectacular views of the valleys and then to a gated community. The gates opened and the bus rolled in, pulling up in front of a house where two little girls and their family had a lemonade stand. The proprietor, Brian Wilson, personally greeted all the very surprised and delighted visitors.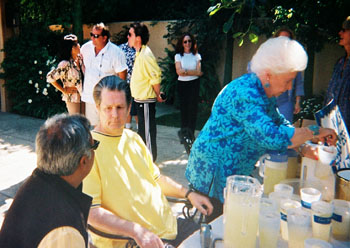 photo copyright © 2002, Doug Schenker
Billy sitting in with Brian Wilson (center, yellow shirt) at the lemonade stand. In the background, from left to right: Annie Wilson-Karges, Jeffrey Foskett, Ricci Martin, and Barbara Wilson.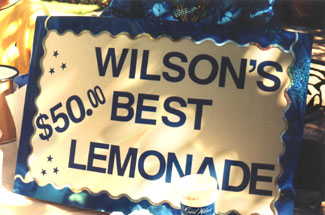 photo copyright © 2002, Margaret Dowdle Head
The lemonade was free; the drinking cups signed by Brian were available for a donation to the CWF.
The tour continued past more homes and ex-homes of the stars, winding up at lunch, which was attended by various Beach Boys associates and members of the extended Wilson family.






Updated on November 18, 2002



HOME | CONTACT | EVENTS | MISSION | NEWS | TRIBUTES | TOP