CONCERT 08 | GOLF 08 | GOLF 07 | GOLF 06 | GOLF 05 | CONCERT 03



WALK 02 | WALK 01 | WALK 00 | WALK 99 | WALK 98 | MORE





fourth annual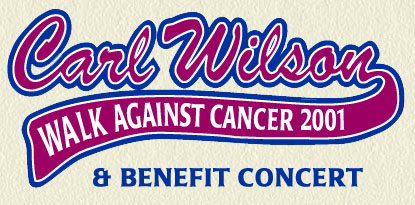 Sunday, October 14, 2001
The Carl Walk is always great, and this year's was the best yet! It's like country music's Fan Fair, in that we are afforded the opportunity to mingle freely with members of the Beach Boys family, who graciously give of their time and themselves to honor Carl's memory. Susan Lang
The weekend of the Carl Wilson walk was incredibly special to me. Being around the people who were near and dear to Carl was worth its weight in gold. Having been a fan for many years, the walk and concert was a Beach Boys fan dream. I hope more people will experience the walk in the future as its for a good cause and a very exciting time! Joanne Munie
THE EVENTS
Saturday, October 13, 2001
BEACH PARTY

Photo Essay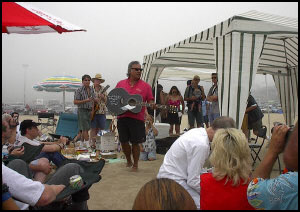 Billy Hinsche (center) leading the singalong at the Beach Party
Photo copyright © 2001, Larry Collings
The Beach Party took place the day before the Walk, next to the Santa Monica Pier (or at least we think that's where it was) in a thick fog that made even the ocean hard to see, but couldn't dampen the fun in the least. Billy Hinsche, Jeffrey Foskett, Ricci Martin, Michael Angeloff, C & K (Michael Campion & Randell Kirsch), The Honeys, Matt Jardine, Tom Jacob, John Zambetti (Malibooz), New Zealand's Backchat, and others performed and led the singalong with fans and families. A number of Beach Boys' family members and associates were also on hand, including about half of Brian Wilson's backing band, both of Carl Wilson's sons, Annie Wilson, author Jon Stebbins, Stephen Kalinich, Ed Roach, and Alan Boyd.
Sunday, October 14, 2001
THE CARL WILSON WALK AGAINST CANCER

Photo Essay
Beginning at the Santa Monica Pier, the 5K walk took place along the scenic Santa Monica Palisades Park north to San Vicente Blvd., and back again. Lunch and the auction followed at nearby Rusty's Surf Ranch. Many of the extended Wilson family and Beach Boys associates joined us this year, including Gina Wilson, Annie Wilson, Jonah Wilson, Justyn Wilson, Barbara Wilson, Carl B. Wilson, Michael Wilson, Wendy Wilson, Melinda Love and family, Jackie Love, and Jerry Schilling (Carl's manager in the '80s). A huge painting of Carl presided over the auction stage, while an audio track of his songs and featured leads with the Beach Boys played in the background and video footage of Carl in concert played on the big screen TV. Billy Hinsche, Jeffrey Foskett, and Betty Collignon ran the auction. The bidding got intense at times, with a '70s photo of Carl playing Dennis' drums in concert sparking a bidding battle between two of their sons. Mike Love's wife Jackie was one of the auction's most generous contributors.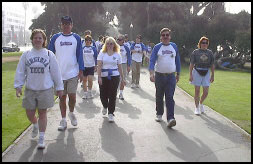 Walking for Carl in Santa Monica

Photo copyright © 2001, Gelene Collings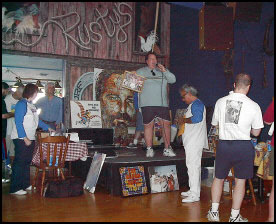 Betty (far left), Jeff, and Billy running the auction

Photo copyright © 2001, Larry Collings

BENEFIT CONCERT


Photo Essay
Carnie (left) and Wendy (right) Wilson joining their dad, Brian, onstage for the concert finale

Photo copyright © 2001, The Carl Wilson Foundation
A separate Benefit Concert was held that evening at the El Rey Theatre in Los Angeles, headlined by Brian Wilson. Other performers included Backchat, Ricci Martin, The Honeys, Carnie and Wendy Wilson, In Bloom, Timothy B. Schmit (from the Eagles), Robert Lamm (from the band Chicago), and America. They were joined by surprise guests Desi Arnaz, Jr., David Marks, Jackie DeShannon, and Mike Meros. Billy Hinsche, Jeffrey Foskett, Matt Jardine, Bobby Figueroa, Scott Bennett, Gary Griffin, Jeff "Skunk" Baxter, and Todd Sucherman comprised the hard-rocking house band. Former tennis pro Andrea Jaeger also made an appearance on behalf of her Silver Lining Foundation.
A portion of this year's Walk proceeds benefit The Silver Lining Foundation, The City of Hope, and the Lester Petrillo Fund.
SPECIAL THANKS TO
Steve Abramson, Dan Addington, Chris Allen, America (Dewey Bunnell, Matt Beckley, Willie Leacox, Brad Palmer and Michael Woods), Desi Arnaz Jr., Back Chat (Nicole Campbell, Beth Campbell, Ruth Hope, and Hannah Calder) and Martin Brennan, Jeff "Skunk" Baxter, David Beard, Brian Berry, Jeff Bleiel, Alan Boyd, Randy Bullock, Cindy Burt, Glen Campbell, Michael Campion, Canters Deli, Gelene Collings, Tonya Cox, Don Cunningham, Kim Dermit, Jackie DeShannon, Neil Diamond, Rene Diaz, Margaret Dowdle-Head, Carole Dreier, Bobby Figueroa, Jeffrey Foskett, Brian Garrido, Carol Gettko, Gary Griffin, Henry Gross, Bernie Gudvi, Debbie Hill, Billy Hinsche, The Honeys (Marilyn Wilson-Rutherford, Diane Rovell, and Ginger Blake), In Bloom (Justyn Wilson, Carl B. Wilson, and Mario Tucker), Tom Jacob, Andrea Jaeger -- Silver Lining Foundation, Matt Jardine, Wynonna Judd, Stephen Kalinich, Randell Kirsch, Robert Lamm, Barbara Lang, Susan Lang, Greg Larson, David Leaf, Hank Linderman, Lee Lodyga -- Capitol Records, Elliott Lott -- BRI, Maureen Love, Melinda Love, David Marks, Ricci Martin, Joanne Munie, Olivia Newton-John, Roger Noyes, Ruth Oakes, Angela Oaks, Scott Paton, Jeff Peters, Kandilee Peters, Robert Rich, Pamela Richmond, Ed Roach, John Robertson, Toni & Mike Rogers, Cheryle Root, Terry Rucker, Nick Sanelli, Timothy B. Schmit, Scott Sessions, Joyce Smith, Stan Shanter, Jon Stebbins, Shelly Steier and Dr. David Horak -- The City of Hope, Todd Sucherman, Mick Terry, Ben Valley, Fred Walecki -- Westwood Music, Brian & Melinda Wilson, Brian Wilson Band (Scott Bennett, Taylor Mills, Andy Paley, Paul Mertens, Bob Lizik, and Jim Hines), Carnie Wilson, Gina Wilson, Jonah Wilson, Mike Wilson -- 5 Dudley Restaurant, Wendy Wilson, Annie Wilson-Karges, The Wondermints (Darian Sahanaja, Nicky "Wonder" Waluska, and Probyn Gregory).
CONTACT INFORMATION
Donations may be sent directly to The Carl Wilson Foundation at:

The Carl Wilson Foundation
P.O. Box 1708
Beverly Hills, CA 90213-1708

For more information via email, please contact us.

All donations to The Carl Wilson Foundation will benefit cancer patients, cancer research, and cancer advocacy efforts.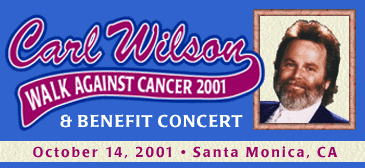 Updated on December 7, 2001
Please report any problems to the webteam.


HOME | CONTACT | EVENTS | MISSION | NEWS | TRIBUTES | TOP