CONCERT 08 | GOLF 08 | GOLF 07 | GOLF 06 | GOLF 05 | CONCERT 03



WALK 02 | WALK 01 | WALK 00 | WALK 99 | WALK 98 | MORE





BENEFIT CONCERT
El Rey Theatre, Los Angeles, CA
Sunday evening, Oct. 14, 2001
Click on a picture to view it full size. All photos are used by permission and are not to be reproduced, copied or sold. All rights reserved.
---

The El Rey concert opened with the now-traditional introduction by Carl's sons Jonah and Justyn Wilson. The multi-talented house band for the evening was put together by Billy Hinsche (keyboards, guitar, vocals) and included Jeffrey Foskett (rhythm guitar, vocals), Jeff "Skunk" Baxter (lead guitar, acoustic guitar, pedal steel), Scott Bennett (bass, vocals), Bobby Figueroa (percussion, vocals), Gary Griffin (organ, melodica, vocals), Matt Jardine (percussion, vocals), and Todd Sucherman (drums). They supported the artists appearing in the first part of the show, before Brian Wilson's set.
Artists for the benefit concert are listed in order of appearance.
BACKCHAT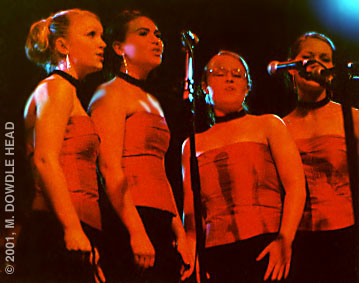 photo copyright ©2001, M. Dowdle Head

First up was the lovely and talented Backchat, a quartet of young ladies (Nicole Campbell, Beth Campbell, Ruth Hope and Hannah Calder) from New Zealand, who opened the show with a crowd-pleasing a capella version of "In My Room."




RICCI MARTIN
Emcee Ricci Martin joined with his Ricci, Desi, & Billy partners Billy Hinsche and surprise guest Desi Arnaz, Jr. for "Stop Look Around."


photo copyright ©2001, Rene Diaz
THE HONEYS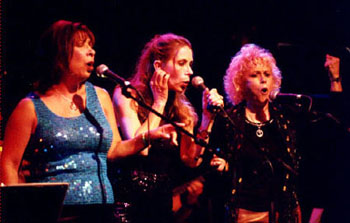 photo copyright ©2001, Rene Diaz

The Honeys (Marilyn Wilson-Rutherford, Diane Rovell, and Ginger Blake) graced us with a rousing "Shoot The Curl" and "I Can Hear Music"




JUSTYN WILSON & CARL B. WILSON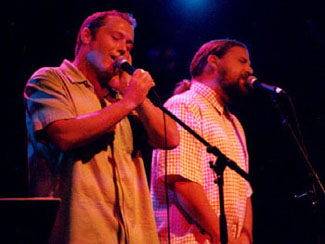 photo copyright ©2001, Rene Diaz

In Bloom's Justyn Wilson (Carl Wilson's son, right) and Carl B. Wilson (Dennis Wilson's son, left) treated us with a rocking tribute to their fathers on "Angel Come Home."




DAVID MARKS & THE HOUSE BAND
Special surprise guest and former Beach Boy David Marks joined the house band for lead guitar on "Shut Down."

photo copyright ©2001, Rene Diaz
BACKCHAT
Backchat came back with their a capella reading of "Somewhere Over the Rainbow," the number that won them the Sweet Adelines International's Rising Star Quartet Contest this year.







Updated on November 11, 2001



HOME | CONTACT | EVENTS | MISSION | NEWS | TRIBUTES | TOP