BENEFIT CONCERT
Sunday evening, Oct. 14, 2001
Click on a picture to view it full size. All photos are used by permission and are not to be reproduced, copied or sold. All rights reserved.
---
Artists for the benefit concert are listed in order of appearance.
IN BLOOM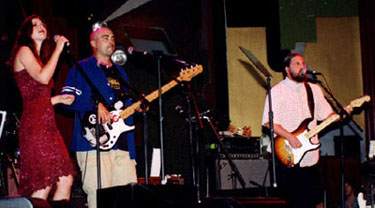 (from left) Wendy Wilson, Mario Tucker, Justyn Wilson)
photo copyright ©2001, Rene Diaz
In Bloom (Justyn Wilson, Carl B. Wilson, and Mario Tucker) were joined by cousin Wendy Wilson for "White Dog." They also played their crowd-pleaser, "Crazy L'il Mouse" (featured in the Bandits movie soundtrack).
THE WILSONS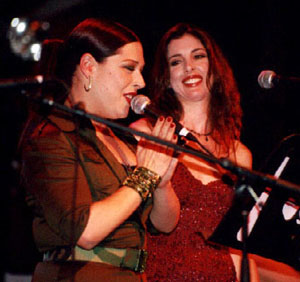 photo copyright ©2001, Rene Diaz

Carnie and Wendy Wilson paid tribute to their Uncle Carl with a lovely two-part harmony on "Heaven" and "God Only Knows."




THE HOUSE BAND, featuring MATT JARDINE & JEFF BAXTER
Matt Jardine (on lead vocals), Jeff "Skunk" Baxter (on a blistering lead guitar), and the house band seriously kicked out the jams with a hard-rocking version of "Wild Honey."

photo copyright ©2001, Rene Diaz
TIMOTHY B. SCHMIT
Timothy B. Schmit sang sweetly on "Love Will Keep Us Alive" and "I Can't Tell You Why," with Hank Linderman guesting on guitar.

photo copyright ©2001, M. Dowdle Head
ROBERT LAMM & JEFFREY FOSKETT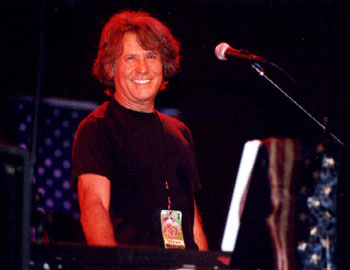 Chicago's Robert Lamm
photo copyright ©2001, Rene Diaz
Robert Lamm sang a delightful duet with Jeffrey Foskett on Beckley-Lamm-Wilson's "Watchin' the Time Go By" and "Today." They also performed Chicago's "Wishing You Were Here."
AMERICA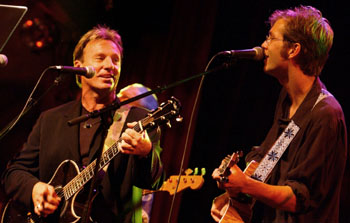 photo copyright ©2001, Carl Wilson Foundation

America (featuring Dewey Bunnell, left, and Matthew Beckley, right, who subbed for ailing father Gerry) pleased the crowd with their classics "Ventura Highway" and "Horse With No Name." They were joined by a surprise guest, former BB keyboardman Mike Meros.




INTERMISSION
There was one more item for auction -- a custom-made six-string Rickenbacker guitar, signed by every performer in the show. The winner was Jackie Love (Mike's wife).

Billy Hinsche (left) and Jeffrey Foskett working the crowd during the auction.

photo copyright ©2001, M. Dowdle Head







Updated on November 11, 2001



HOME | CONTACT | EVENTS | MISSION | NEWS | TRIBUTES | TOP