CONCERT 08 | GOLF 08 | GOLF 07 | GOLF 06 | GOLF 05 | CONCERT 03



WALK 02 | WALK 01 | WALK 00 | WALK 99 | WALK 98 | MORE





CWF BENEFIT CONCERT
Royce Hall, UCLA campus, Los Angeles, CA
Sunday evening, Oct. 6, 2002
Click on a picture to view it full size. All photos are used by permission and are not to be reproduced, copied or sold. All rights reserved.
---
This year's benefit concert was an multi-artist extravaganza, with the different performers making several appearances throughout the evening. This photo essay covers some of the highlights.
Brian Wilson's band -- Jeff Foskett (guitar, vocals), Nick "Nicky Wonder" Waluska (guitar, vocals), Probyn Gregory (guitar, French horn, trumpet, vocals), Scott Bennett (keyboards, vibes, percussion, vocals), Darian Sahanaja (keyboard, vibraphone, vocals), Paul Mertens (saxophone, flutes, harmonicas), Mike D'Amico (percussion), Taylor Mills (vocals), Bob Lizik (bass), and Jim Hines (drums) -- served as house band at the beautiful Royce Hall.
VAN DYKE PARKS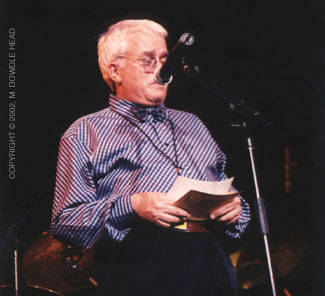 photo copyright ©2002, M. Dowdle Head

This year's concert was emceed by the genial Van Dyke Parks (who also performed several of his songs from Orange Crate Art).




THE WONDERMINTS
Wondermint Darian Sanahaja.

The Wondermints performed their new song "Ride," with Brian Wilson joining on backing vocals.


photo copyright ©2002, M. Dowdle Head
CARNIE AND WENDY WILSON
(aka THE WILSONS)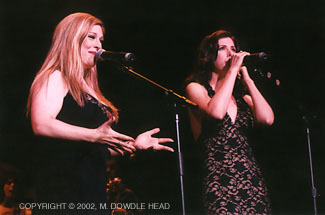 photo copyright ©2002, M. Dowdle Head

Carnie (left) and Wendy Wilson displayed their lovely vocal harmonies to great advantage on "Til I Die" and "This Whole World" and sang backup for just about everybody else in the show.




SUGAR RAY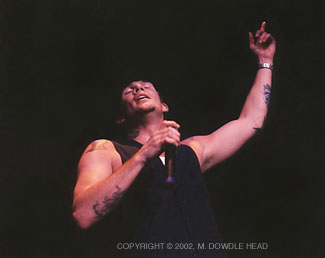 photo copyright ©2002, M. Dowdle Head

Sugar Ray's Mark McGrath.
The kinetic Sugar Ray delighted the crowd with two of their big hits, "Every Morning" and "Fly" (dedicated to Carl) and The Beach Boys' classic "Do It Again."




JONAH & JUSTYN WILSON

Justyn (left) and Jonah Wilson shared a highly moving account of their father Carl's final year and provided an update on the CWF's activities.
photo copyright ©2002, M. Dowdle Head






Updated on December 12, 2002



HOME | CONTACT | EVENTS | MISSION | NEWS | TRIBUTES | TOP